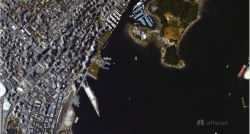 Two high-definition cameras—one shoots photos, the other Ultra HD video—developed by UrtheCast in British Columbia for the International Space Station (ISS) is helping the world change the way it sees itself.
World's first "near real time HD images of Earth"
The cameras were installed during a spacewalk by two Russian astronauts after they arrived last year aboard a Progress 53P cargo ship propelled by a Soyuz rocket.
Following a process of commissioning and calibrating the cameras and ground system testing, UrtheCast will provide the world's first "near real time HD images of Earth," giving their customers access to dynamic, super-resolution video of Earth for purposes ranging from environmental monitoring and forest fire detection to broadcasting and natural disaster relief.
"Releasing our first images from space was a pivotal moment for the company and for everyone who's been a part of the vision that we set in motion in 2010," said UrtheCast co-founder and CEO Scott Larson. "Our team has been working extremely hard to make certain that we reach this goal of democratizing a very powerful perspective on the world."
One pixel in imagery = one square metre of the earth's surface
To accomplish this, one-metre resolution video and five-metre resolution still imagery of Earth below the ISS will be captured, streamed, collected and distributed to UrtheCast's data partners. This means that each pixel in the imagery represents one square metre of the earth's surface.
UrtheCast customers will be able to hire one of the two cameras to look at a particular spot on the earth.
Google and governments
Companies like Google are seen as potential customers, as well as governments wanting to track forestry, animal migration, environmental borders and more.
As UrtheCast collects a high volume of images, its free web platform will give anyone with an internet connection an opportunity to watch the world change in near real time.
UrtheCast's first image, focussed on the area around the city of Moneague, Jamaica, and covering some 300 square kilometres, was captured on March 28 of this year.
The Vancouver-based company is now an aerospace leader as it brings earth observation to the forefront of the world.